30th September, Northampton: White Motorcycle Concepts [WMC], the global leading expert in motorcycle aerodynamic duct technology, brings the joy of reduced carbon motorbiking to the public for the first time with its first premium consumer hybrid motorcycle – the WMC300AE Aero-Electric Hybrid.
WMC's new short-run production motorcycle harnesses all the research, efficiency and performance potential gathered from the pioneering British engineering company's ground-breaking WMC250EV high-speed demonstrator land speed record bike, while also demonstrating the extreme range and carbon reduction credentials of its WMC300FR First Responder bike (already in service with the UK Police Force).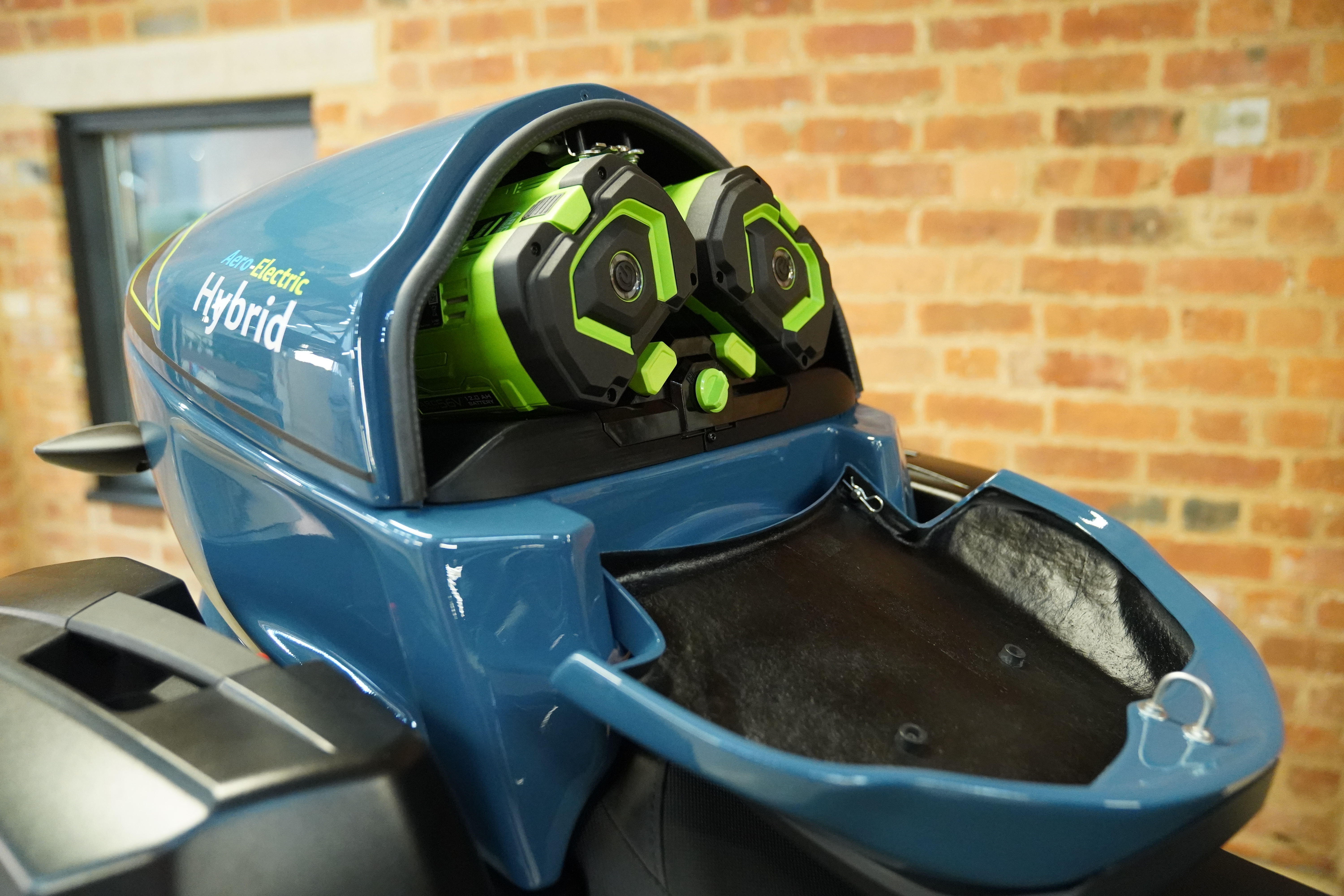 WMC, founded by Chief Executive Officer Rob White and based in Northamptonshire, has developed a practical version of its patented drag reduction technology that funnels air through, rather than around, a motorcycle. The company has wedded a newly-developed version of this V-Duct – iterations of which are a key pillar of WMC's WMC250EV high-speed demonstrator land speed record bike and the WMC300FR First Responder – to a road-bike fitted with hybrid technology and complete with high-end subsystems to create a luxury, premium, long-range low-carbon alternative to the traditional road motorcycle.
As the industry transitions away from being dependent on fossil fuels, WMC continues to innovate with its WMC300AE Aero-Electric Hybrid. Using the Yamaha Tricity 300 as a base model, which can be ridden on a car license, WMC's team of former Formula 1 engineers have devised a truly unique piece of automotive history, that is both enormously practical while also  providing a blueprint for the future of motorcycle technology.
No expense has been spared to make the Aero-Electric Hybrid riding experience as desirable as it is exclusive, with WMC adding a number of carefully chosen upgrades to enhance the motorcycle's handling, road holding,  acceleration, braking and overall ride experience. The powertrain has been enhanced with K&N air filters and a titanium/carbon fibre Akrapovic Slip-On Line (SS) exhaust. Handling is improved by the inclusion of Ohlins YA 241 shock absorbers and braking boosted by EBC Greenstuff brake pads (that use sustainable brake pad material), as well as Hel Performance braided brake lines.  Maintaining sustainability throughout the duct and other aerodynamic features are constructed from aerospace grade recycled carbon fibre.
The Aero-Electric Hybrid incorporates a bespoke venturi duct, which reduces drag by pushing air through the vehicle, rather than around it. Aerodynamic front fenders then force air towards the tunnel, reducing frontal resistance and ensuring less energy is used to propel the vehicle forward. The hybrid power assist, featuring a 5kW peak power electric motor unit, kicks in at lower speeds, improving acceleration and range as it reduces the petrol requirement and is bled out from 40mph where battery's rapidly deplete. Here the efficiency benefit of the aerodynamics then becomes prominent at the higher speed range maximising fuel saving and increasing performance. The hybrid system utilises two 56V 12Ah rechargeable batteries from industry leaders EGO and these can be fast charged from a standard three-pin plug.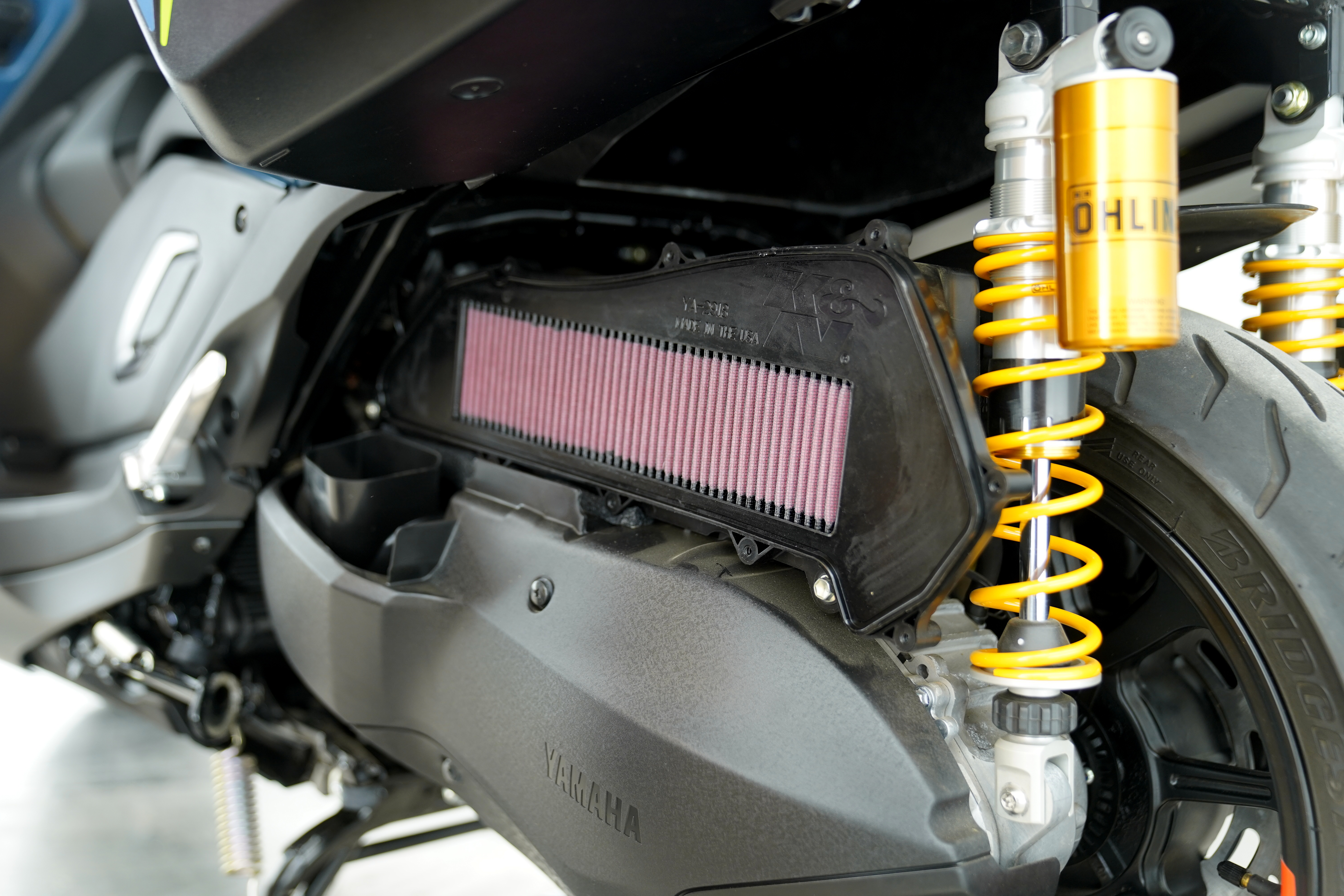 Combined with the hybrid system, the frontal aerodynamics, including new front fenders and carbon fibre wheel fairings (including wheel discs), have been optimised to work with the duct. The result means the WMC300AE can achieve much greater fuel efficiency and dramatically reduce the CO2 produced when compared to an equivalent conventional motorcycle.
"This is the first application of our duct technology available to the public and offers a limited number of individuals the chance to purchase this very special motorcycle. Because of this, we wanted the Aero-Electric Hybrid to feel as premium to ride as it is unique to own. This is the ultimate expression of a reduced carbon city commuter motorcycle," said White.
"It's our desire to see the duct become a part of all future motorcycle design and the WMC300AE represents the first public model anywhere in the world to incorporate it along with hybrid technology. We are a premium motorcycle concept creation company and do not have the desire to become a mass manufacturer of motorcycles, however where we feel that our technology is suited to an exclusive run, we will create an exceptional version. And the Aero-Electric Hybrid is truly exceptional."
The WMC300AE Aero-Electric Hybrid is primarily targeted at the UK market and each example would be provided in-house premium service and repair. The limited run of 10 motorcycles becomes available to the public on 30th, September with price available on application.