Project MUSTReCab
The MUSTReCaB project aimed to build upon a previous feasibility study and proof of concept research projects to deliver an ultra-lightweight solution for producing complex, feature rich load bearing structural panels in a recycled Carbon fibre reinforced thermoplastic composite.

The challenge
Morris Commercial are set to revive the historic brand with all electric vehicles. Its first model, the Morris JE, is a 2.5-ton lightweight commercial vehicle including a van, minibus and pickup derivatives. The vehicle is designed to have a 1-ton payload and 200 miles of range. This surpasses all current equivalent electric light commercial vehicles on the market in both payload and range. To achieve this, it needs to have a robust and ultralightweight body structure to offset the weight of the heavy batteries. The vehicle also needs to be affordable. Morris's own feasibility studies backed by extensive external studies and proof of concept research projects completed by Prodrive indicate that using Recycled Carbon Fibre as developed by ELG will be able to achieve the combined result of an ultralightweight body structure at a commercially viable cost.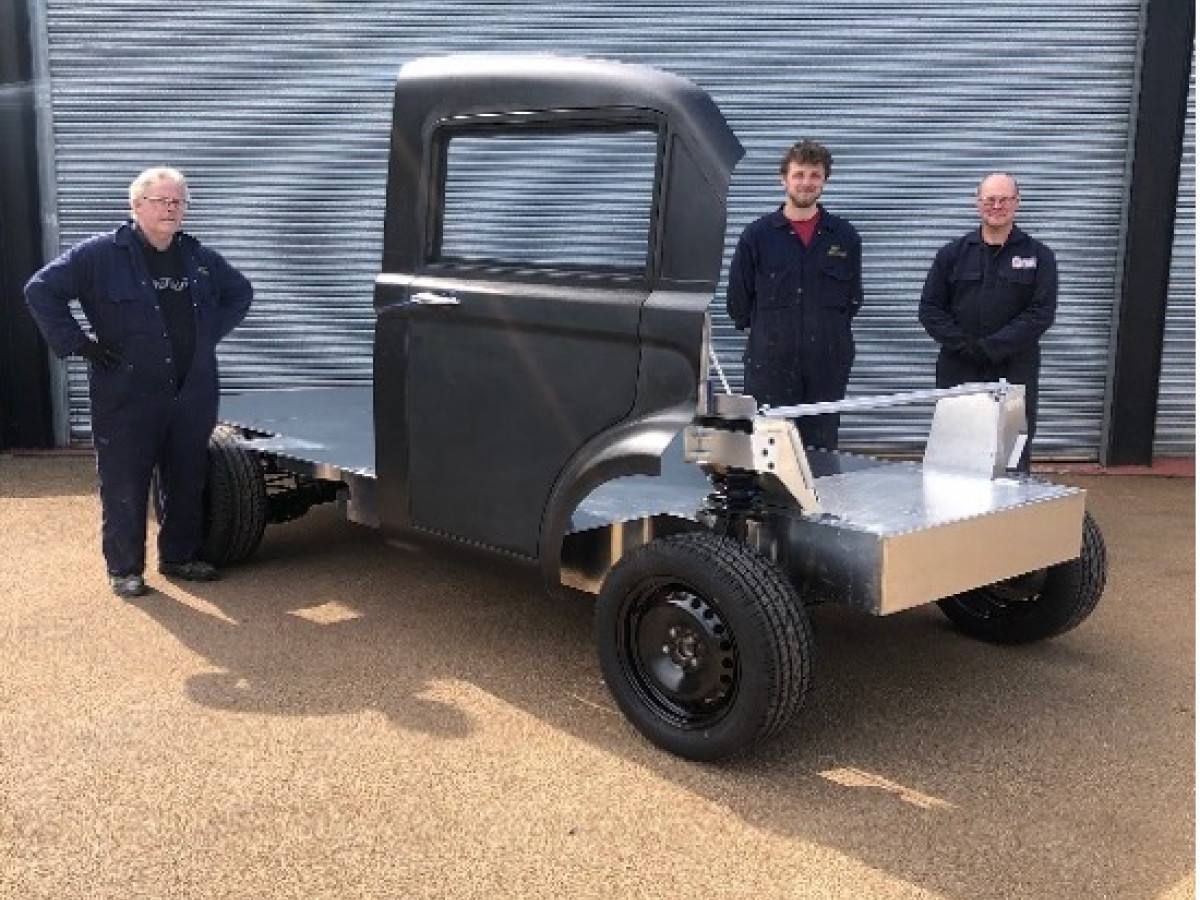 What did the project do?
The project set to produce complex panels in Recycled Carbon Fibre Composite (RCFC) combined with a thermoplastic matrix and to develop a production process in a cost-effective manner. The project chose to address the most complex area of the vehicle, the driver's door and aperture/surround. A prototype set of patterns, tools and development panels were manufactured to test the production methods and validate the cost.
The results
The project successfully achieved the objective of manufacturing a door assembly using a recycled thermoplastic Carbon fibre composite material. The tooling concept was effective in delivering a lightweight low-cost alternative to more expensive traditional press tools. The door assembly is extremely light and meets all the structure requirements and functional requirements. The A and B post, door frame and door assembly were assembled to the Morris JE lightweight rolling chassis as the final demonstrator.
The successful completion of the project MUSTReCaB provided the feasibility and possibility for Morris to produce the full Morris JE van body (BIW) in recycled Carbon fibre materials

- Dr. Qu Li, Director - Morris Commercial